We had seven LUCI labbers walk at graduation this year (Judy Chen, Silvia Lindtner, Meg Cramer, Boaz Gurdin, Julkka, Katie Pine, and Marisa Cohn). Alas, I also had a seven month old at home… so the idea of making seven cakes was pretty much out of the question. So, I decided to make a graduation themed cake. I got the idea to make candy mortar boards from Bakerella and decided to make a S'mores cake in honor of the beach bonfires and Judy Chen's awesome marshmallow roasting skills.
My mortar boards are not cake pops… just plain old candy on a stick. They are quite easy to make and involve melting candy in a double boiler. Then, you pour it into two molds, one that is just plain flat squares, one that looks like peanut butter cups. Tap them on the counter to get any air bubbles out and stick them in the fridge. Once they have cooled a little, stick the sticks in. Once they have cooled completely, they should pop right out. You can then dip the cup part in a little melted candy and stick it to the flat part. Cool those again in the fridge. The final step is to attach something yellow and stringy (sour straws or licorice both work great) onto them with again a little melted candy.
I used Food Network's chocolate cake recipe, but I didn't have all the ingredients, so I subbed a bit.  Here is what I wound up doing:
Ingredients
1 cup (2 sticks) unsalted butter, softened at room temperature
3 cups light brown sugar, packed
4 eggs
2 teaspoons pure vanilla extract
3/4 cup unsweetened cocoa powder
1 tablespoon baking soda
1/2 teaspoon salt
3 cups sifted cake flour
1 1/3 cups Vanana yogurt + 1 teaspoon baking soda (this is a sub for sour cream, plus it makes things a little bananny)
1 1/2 cups hot coffee (mine was luke warm… I don't think it made much difference)
These directions are totally stolen directly from Food Network:
Preheat the oven to 350 degrees. Butter and flour 3 (9-inch) cake pans. Cut 3 circles of waxed paper or parchment paper to fit the bottoms of the pans, then press them in. I was skeptical about the wax paper trick. I used parchment paper (I don't keep waxed paper in the house) and it worked brilliantly!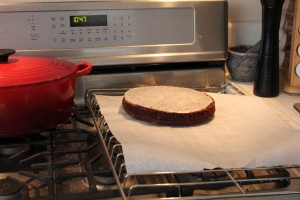 In a mixer fitted with a whisk attachment (or using a hand mixer), cream the butter until smooth. Add the sugar and eggs and mix until fluffy, about 3 minutes. Add the vanilla, cocoa, baking soda and salt and mix. Add 1/2 of the flour, then 1/2 of the sour cream and mix. Repeat with the remaining flour and sour cream. Drizzle in the hot coffee and mix until smooth. The batter will be thin. Pour into the prepared pans and bake until the tops are firm to the touch and a toothpick inserted into the center comes out clean (a few crumbs are okay), about 35 minutes. Halfway through the baking, quickly rotate the pans in the oven to ensure even baking, but otherwise try not to open the oven. Let cool in the pan 10 minutes. Turn out onto wire racks and let cool completely before frosting.
For the filling, I made a marshmallow frosting, which I then added graham crackers and chunks of milk chocolate to make it more s'mores like.
For the frosting, I used a basic buttercream and blue and yellow fondant.
A crumb coat is kind of essential with a chocolate cake and white buttercream… so you can see the intermediate steps here: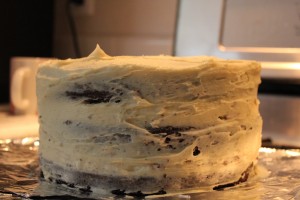 The polka dots were crazy easy to make. You just need to roll out the fondant thin and then cut circles with really whatever you have around that is circular.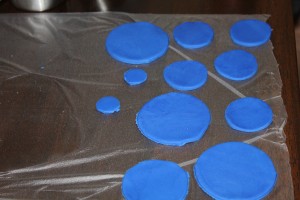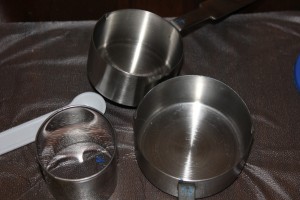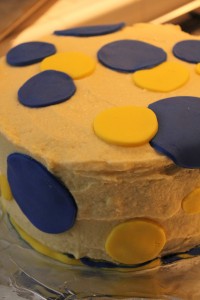 And here is the final product in Paul's kitchen for the party!