I had a lot of fun making this cake for Lynn and Jed's graduation. Lynn requested lemon blueberry, so I found this awesome recipe online:http://sallysbakingaddiction.com/2014/02/09/lemon-blueberry-layer-cake/ I pretty much always love anything that cake blogger does, so I knew we'd be good. I went with an old standby gluten free chocolate cake for the top (mortar board).
First, to make the mortar board. I followed MyCupcakeAddiction's basic instructions and finally used that giant silicone cupcake mold i had. I melted dark chocolate and a little bit of chocolate candy melts just for consistency and swirled them in the pan.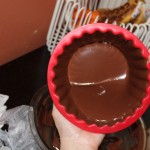 Then, into the fridge. This was supposed to be 15 minutes. I have two toddlers at home. It turned out to be more like 2 hours.
The mold didn't seem to be hurt by extra time though, so all good. I also used the top to mold some more chocolate…. not for the mortarboard but just for fun for the kids to eat. Its really easy to just peal the mold away from the cold chocolate. And then it was on to the cakes.
The lemon blueberry cake involved a lot of lemons, some buttermilk, and a lot of yum. I made a double batch, which got me 4 layers deep for the main cake and wound up with one extra layer that fed my hungry boys for a couple of days.
I baked the chocolate gluten free cake in the same mold as the candy and then trimmed it up, put a layer of nutella in it and stacked it back together. I popped the chocolate shell back into the silicone mold for support (another great tip from online).
And then it was time to make the mortar board. Alumni and friend Judy Chen had brought me a bunch of black fondant at an Angels game a few weeks back (yes, she snuck fondant into a baseball game). So, that pretty much inspired this cake. Also, a diaper box supplied some structure…. the one inedible part of the cake. Fondant and a garlic press took care of the tassle.
After a few rounds of buttercream, it was time for the sprinkles. I bought an obscene amount, but believe it or not, I used half that giant bottle.
The cake got a little banged up on the ride to Paul's house, but I was able to mostly fix it and assemble it (and Paul helpfully documented the assembly with the pics below).
Final cake pic, thanks Jed!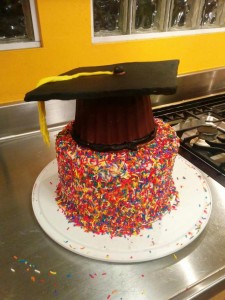 And Lynn was a very good sport about having a fondant mortarboard on her head.